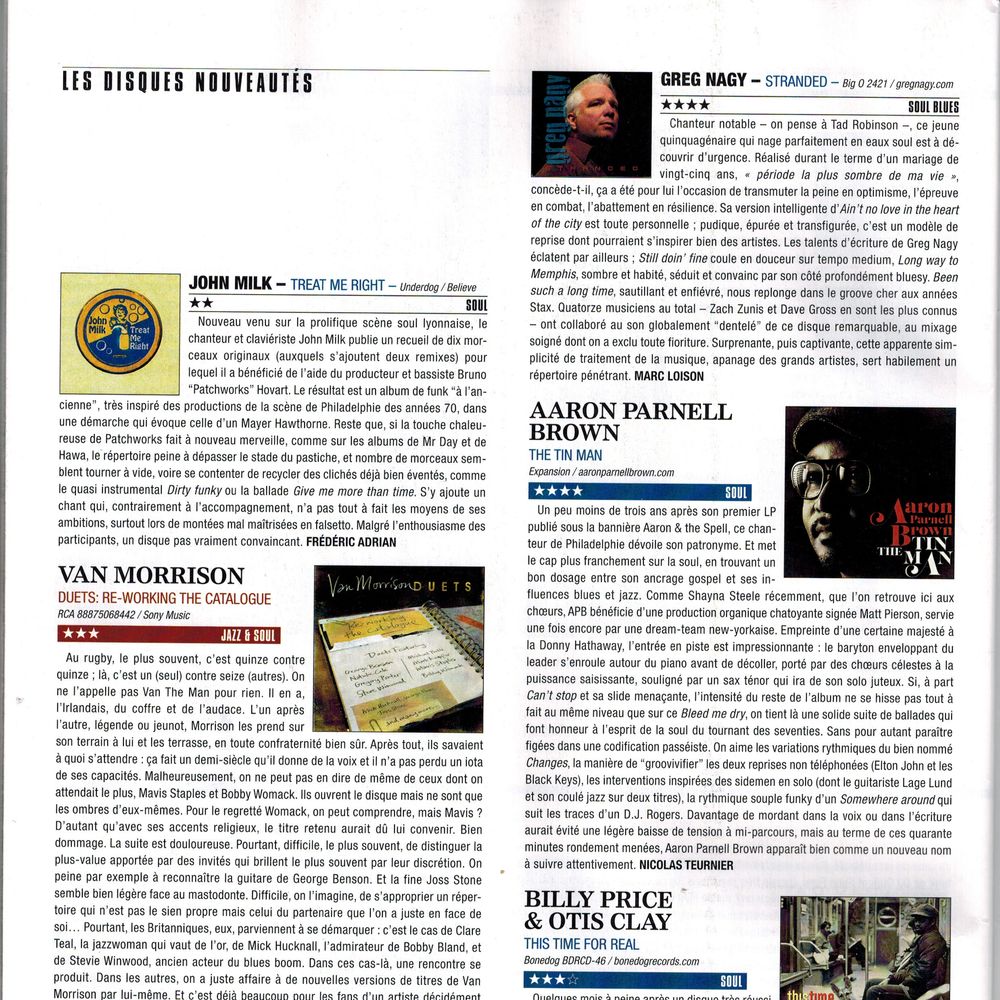 soul bag: four stars!
Greg Nagy - Stranded
★★★★ Soul Blues
Notable singer - think of Tad Robinson-, this young 50-something who swims perfectly in the waters of Soul music should be checked out. Produced during a 25 year marriage, "the darkest period of my life", he admits, this was an opportunity for him to convert the pain to optimism, trial to battle, dejection to resilience. His smart version of Ain't no love in the heart of the city is all personal; pure, clean, and transformed, it could be a model for other artists to follow. The writing talents of Greg Nagy break out elsewhere; Still doin' fine flows smoothly to a medium tempo, Long way to Memphis, dark and occupied, seduces and persuades with its deeply bluesy feel. Been such a long time, hopping and feverish, drops us down again into the cherished groove of the Stax years. Fourteen musicians in all - Zach Zunis and Dave Gross are the best known - collaborated on the universally "jagged" sound of this remarkable disc, no-frills and well mixed. Surprising, then captivating, the apparent simplicity of the music, a prerogative of great artists, skillfully serves a penetrating repertoire.
"...Nagy's vocals recall Boz Scaggs at his most soulful and sophisticated." 
~SING OUT MAGAZINE
"A Michigan legend... his shows are not to be missed!" 
~WKAR


 
" Nagy...is the Northern industrial equivalent to Southern country of the 1950s and '60s. He melds '70s West Coast R&B, British blues rock, Albert King tones, dollops of Steely Dan, the Rascals and Elvin Bishop, and the unhurried approach of a player justifiably confident in his material."
Rick Allen
Vintage Guitar Magazine
"...Greg can play anything he wants to guitar wise, but it's his voice that's heart stopping... On She's My Baby [from Walk That Fine Thin Line] you hear him at his most authentic. A little Levon Helm, Rick Danko and Richard Manuel all rolled into one." 
~Jeff Paris: A&M Records (Writer for: Luther Vandross, Rod Stewart, Bill Wither, etc and music director for Keb Mo)
 
"Greg Nagy -- whether with his incredible band or solo -- is one of the best contemporary blues musicians out there. His guitar work is top-notch, but wait till you hear him sing!"

Cal Stone 
Brigthon Jazz and Blues Festival Director

"Straight shooting honesty... pure gold!   FOUR STARS!
~Frank John Hadley
Downbeat Magazine

 
"Songs like "I Won't Give Up" mark him as a soul singer who could rank with the greats!"
Jeff Burger (byjeffburger.com) edited Leonard Cohen on Leonard Cohen: Interviews and Encounters and Springsteen on Springsteen: Interviews, Speeches, and Encounters, both published by Chicago Review Press.
"Greg Nagy's Stranded has earned its spot at the top of various 2015 top ten lists. It landed in my top three. This dude hits every note, puts emotion in every word, and all the while comes across as cool as the other side of the pillow. I don't have many blues albums on my personal playlists, but this one earns its spot with every song."
Geoff Wilbur Music Blog
West Michigan Music Review